Below you'll find information on Carey's novels and nonfiction. Crossed Odds (fiction) kicks off the Crystal Dystopia series. For nonfiction titles Crazy Like a Fox and Next, Carey was the "with" author, which is like being a named ghostwriter. Inspired Barrens, a novel, has been fully drafted but is still a work in progress to be taken up again later.
Crossed Odds | Crazy Like a Fox | Next! | Inspired Barrens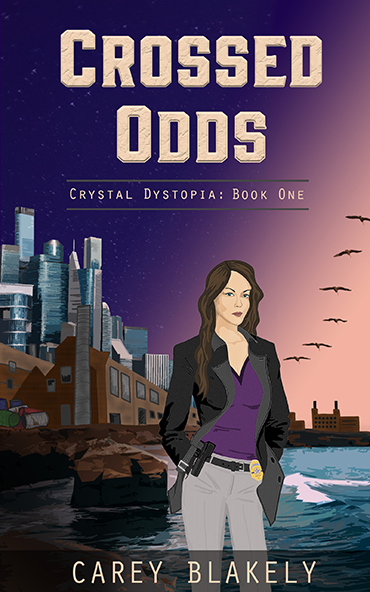 Now available as an e-book & paperback!
Crossed Odds (Crystal Dystopia: Book One)
Genre-bending, intense, psychological, and inspiring, Crossed Odds launches the Crystal Dystopia series with a bang.
Crossed Odds incorporates elements of dystopian fiction, sci fi, fantasy, and the crime thriller to lead readers on a suspenseful yet thought-provoking ride.  
With LGBTQ+ characters, an unusual spin on manifestation, and a strong female lead, it defies convention and pushes boundaries.
Think gritty meets visionary.
Synopsis:
Welcome to dystopian San Diego, year 2122. A devastating world war has imperiled life, creating shortages of food and people. As humans struggle to reproduce, a rise in child kidnappings requires the talents of detectives like Keira Kincaid to solve. 
When the baby of a high-ranking government official gets abducted, Keira's work on the case begins to provide clues to the disappearance of her girlfriend, Blaise, a federal agent. Soon Keira finds herself at the convergence of multiple criminal organizations, government officials, and environmental activists. The stakes get higher and the ramifications for national security grow deeper. 
Aiding her is a supernatural ability she keeps hidden that brings her into contact with a covert group of people who enlist Keira to help them manifest a better way of life moving forward.
"A gripping, exciting, and fascinating dystopian fantasy novel with a truly unique, fresh concept that I could easily envision as the first in a best-selling series turned movie series some years in the future." —Bookfox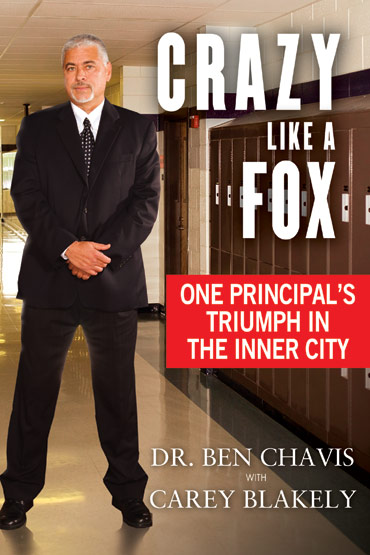 Publisher: New American Library, an imprint of Penguin Random House
Crazy Like a Fox: One Principal's Triumph in the Inner City)
Litter-strewn and rundown with unsupervised students, horrible test scores, and dismal attendance rates, American Indian Public Charter School in Oakland, California, hung rightfully on the brink of closure. Dr. Ben Chavis said he'd like to take over the school, then referred to as "the zoo." Was Chavis crazy? After being appointed principal, he raised the bar with an approach that would make most educators tremble and set the school apart as one of the highest-performing public schools in the nation. Inspiring, entertaining, and downright "crazy," Crazy Like a Fox is also a call to action for education reform.
"Chavis [is] undeniably one of the country's finest educators…Thrust this book into the hands of all the parents you know and implore them to read it." —National Review
"[Chavis] has many of the habits of some of the best educators I know—a wicked sense of humor, a weakness for shocking the conventionally wise, and a deep love of children, particularly those who have had difficult lives." —Jay Mathews, The Washington Post
"There is much to be learned from this account. It is possible to restore public education to its mission of educating the nation's citizens. There is a message of hope and possibility in Crazy Like a Fox that we should embrace." —The San Francisco Chronicle
"Like a character in a high-concept Hollywood film, [Chavis] unabashedly tells whomever he's speaking with exactly what's on his mind. … Chavis is a cross between Socrates and Dirty Harry." —City Journal
"Ben Chavis, the most politically incorrect person on the planet, is also, not coincidentally, one of the people most correct about inner-city education. Read this book by a man who gets results as a practitioner of the 'no excuses' approach to schooling." —George Will
Crazy Like a Fox was featured on NPR, MSNBC, CNN.com, The Wall Street Journal, Stossel on Fox Business Network, The Laura Ingraham Show, The San Francisco Chronicle, The Washington Post, Christian Broadcast Network, The Bill Handel Show, National Review, City Journal, Sirius Radio, and other media outlets.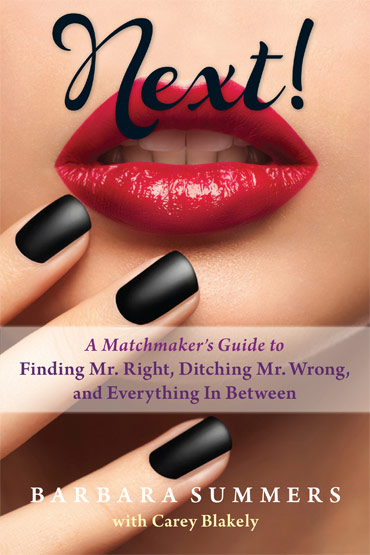 Publisher: SelectBooks, Inc.
Next! A Matchmaker's Guide to Finding Mr. Right, Ditching Mr. Wrong, and Everything In Between
Next! offers a wealth of advice designed to help a woman at any stage of a relationship. Professional matchmaker Barbara Summers and writer Carey Blakely guide women through the cycle of love, providing a road map for what to expect and do from dating all the way through divorce and back again to dating. Using humor, compassion, and straight-up advice, Next! will have women of all ages laughing at themselves while learning how to handle relationship challenges with confidence.
The world is spinning, and that revolving door constantly stays in motion. Who or what is next for you? What the heck are you waiting for, woman? Let Next! get you on your way.
Next! was a San Diego Book Awards Finalist.
"I LOVE THIS BOOK! It will make you laugh, and perhaps make you cry a little. But whatever stage of the 'romance life cycle' you find yourself in, Barbara Summers' excellent advice, practical tips, and her insights into male and female behavior will encourage and inspire you to take the next steps toward a more joyful intimate life. I never thought I'd dip my toes back into the dating waters, until I laughed and cried my way through Next!" —Anne Doyle, Author of POWERING UP! How America's Women Achievers Become Leaders
"This fun, motivational book gives nuggets of practical advice that are soundly grounded in psychological principles. Every woman should read it." —Richard Levak, PhD, a nationally recognized personality expert
"Most of us have experienced Mr. Wrong and looking for Mr. Right. A Matchmaker's Guide to Finding Mr. Right, Ditching Mr. Wrong, and Everything In Between is enlightening and brings us back to the basics of the real way to manifest Mr. Right and not settling for less than you want. It encourages you to have faith in yourself, to leave behind the desperation of meeting someone, and just letting fate happen. Barbara's book has the recipe for a successful relationship. Enjoy the read!" —Jaki Baskow, featured as "Queen of Las Vegas" in Bel Air Magazine
"There are many choices to take and directions to turn in life. This book helps you take the leap and make life happen. Next! will help you reflect on your relationships and ensure you're living abundantly in a vibrant and healthy relationship. It's a dynamic read for any stages of your relationship. An absolute must-read!" —Lane Ethridge, Founder of Changing Lanes International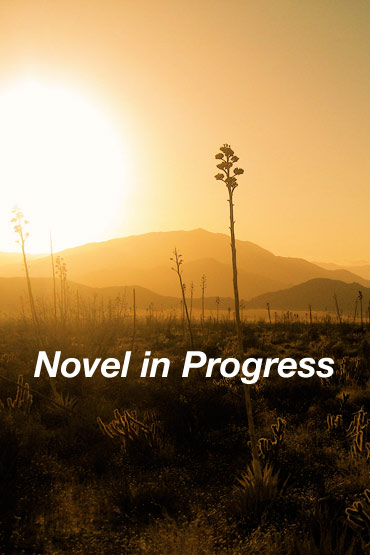 Using an alternating-chapter format, the novel follows the stories of two women grappling with turning points in their lives and tension in their marriages.
In one storyline, Tanya South, who is based on an actual woman, leads a hardscrabble existence with her family during the Great Depression atop a remote desert overlook in what is now Anza-Borrego Desert State Park. Tanya must rely on the natural surroundings to survive, coupled with the meager earnings from her husband's Desert Magazine articles that romanticize the family's "experiment in primitive living." Living the hippie lifestyle—before the word hippie was even coined—takes its toll and forces Tanya to make difficult decisions for the sake of her family.
Meanwhile, Laura, in the wake of a personal tragedy, reluctantly relocates from Manhattan to the San Diego area, where her husband gets caught up in must-have materialism—crossing moral and legal lines and forcing Laura to wrestle with a future she never imagined.
Set in San Diego County, the novel weaves in and out of their overlapping lives, examining what happens to marriages when materialism is dangerously embraced—and drastically rejected.
Get a special copy signed by me
Duis quis euismod facilisis nunc arcu, diam non aliquet eget imperdiet maecenas blandit vitae laoreet tincidunt sociis proin massa pulvinar.